It's the holiday season. With the whoop-de-do and hickory dock… time to check that list and get things ordered! If you know a blogger, then these "Gifts for Bloggers" will go a long way to show that you really, REALLY get them!
socialcirclecards are social networking cards for the twenty-first century! These "social networking cards" are cards made especially for social networking! socialcirclecards contain all of your networking info like your name, cell, email, and even your Facebook or Instagram info. Their fun shape makes them more inviting than the traditional "business card" and make them easier to hand out casually. MSRP $20+ at socialcirclecards.com
How to Be a Blogger and Vlogger in 10 Easy Lessons: Learn how to create your own blog, vlog, or podcast and get it out in the blogosphere! MSRP $12.95 on Amazon
Brand new addition to the Little Miss and Mr. Men family! When it comes to talking about fashion, trends, and the latest fads to follow, no one does it better than Little Miss Blogger. MSRP $11 on Amazon
Best Blogger Ever Water Bottle is an eco-friendly way to carry your favorite drink to school, work or anywhere you go. This 20 oz aluminum sports bottle features 2 caps, 1 easy-flow twist on drinking spout and 1 standard twist on cap. Another great feature is the included carabiner clip that allows you to attach your bottle securely. MSRP $14 on Amazon
Tell it like it is! Eazy to apply, premium vinyl. There is no background color, the surface that you apply the sticker to will become your background color. MSPR $5 on Amazon
The Badass Blog Planner is the must-have workbook to blog with purpose and grow your online presence like a pro. Packed with over 60 worksheets, this one-year planner will help you review the past year and hatch a plan to improve your online presence. It includes worksheets to evaluate and plan blog content, social media posts, products and services, email newsletters, marketing, advertising, your budget, and website design. You'll take action with the confidence to create compelling and shareable content, promote your brand, organize your website, set goals for growth, plan product launches, and feel excited and inspired all year long. MSRP $20 on Amazon
My Mommy is a Blogger, a book written by Sommer Poquette a mom blogger who wanted to explain to children and the world what moms online might be doing with their blogs. A humorous look into the world of blogging based on this one mother's experience and a fun way to explain the importance of the words we choose, online privacy and ways mom bloggers make money and help companies. From Twitter parties, to blog reviews and everything in between this book will be sure to make you smile and be enjoyed by children of all ages! MSRP $15 on Amazon
DO NOT get a blogger mad! MSRP $23 on Amazon
You know you want to blog about it! 10 oz heavyweight natural canvas fabric, full side and bottom gusset and 22″ reinforced self-fabric handles. MSRP $20 on Amazon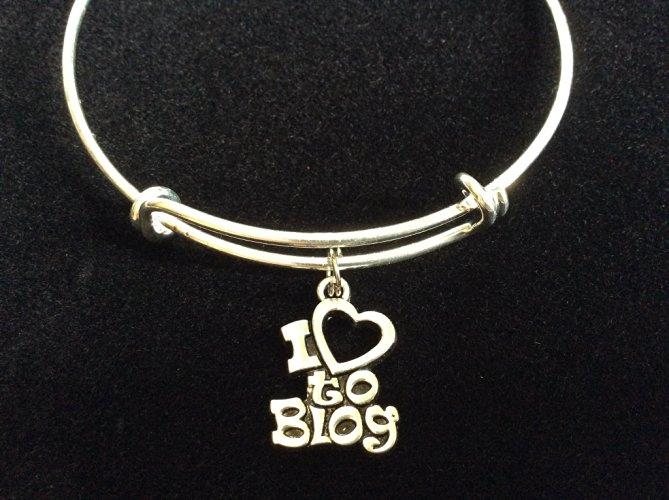 Double loop expandable wire bangle concept allows to smoothly adjust the bangle for a perfect fit. Stainless steel split rings attach charms to the bangle ensuring no lost charms! Handmade, Shipped the same or next Business Day. MSRP $20 on Amazon
Blogs are one of the most common ways the people learn about interesting perspective, news and cool products. Their opinions can often make or break new products or services. Suck up to the blogger in your life with the Keep Calm Or I'll Blog About You Stainless Steel 16 Oz Double Wall Insulated Travel Mug Tumbler with Black Handle. MSRP $30 on Amazon
Which one is your favorite BLOGGER gift?